A bejegyzés magyar változatát itt éri el. 
"Saint East's lost happiness,
This disgraceful present
And the pompous fog-future
Dance on a wine soaked table;
I and the ancient Sardonius wrestle.

I'm dozing in my worn jacket,
Scarlet covers the ancient shoulder.
Crucifix, two candles, sombreness.
A grand tournament, sad, endless
And wine floods the tabletop."

- Ady Endre
Bott Frigyes
Bott Frigyes lives in Mužla, Southern Slovakia, next to the river Hron. His 10 ha biodynamic vineyard is located near the village. Today his name is well-known both in Hungary and among wine lovers in the West, but that hasn't always been the case. What did it take to achieve this fame? First of all, luck. Never in recent times were the circumstances better to make wine in Eastern-Central Europe. But luck in itself is never enough, and it's worth noting he's always had to swim against the current. He's an ethnic Hungarian, yet his labels display his native language. Despite the official name of the wine region is Southern Slovakia, he goes with Pohronie (meaning Hron area). He grows traditional varieties, while most people choose international grapes or trendy, newly bred ones. And biodynamics aren't very widespread either, to say the least. Yet the wines are good, popular, and they're gone from the shelves in weeks. After all, this is what's important if you want to succeed. Most of his wines are white, with a smaller amount of reds. They're spontaneously fermented, barrel aged, whole berry fermentation is used more and more frequently, and before bottling, the wines are filtered and a minuscule amount of sulphur is added. His style relies on showing his terroir through his wines, and he drew a lot of inspiration from Austrian and German vintners - this shows even on his labels. But what are the wines like? I had the chance to answer this question on Wednesday evening. Frigyes held a winetasting at the Palack wine bar, and I attended, so let's see what's hidden in the stylish bottles.
The wines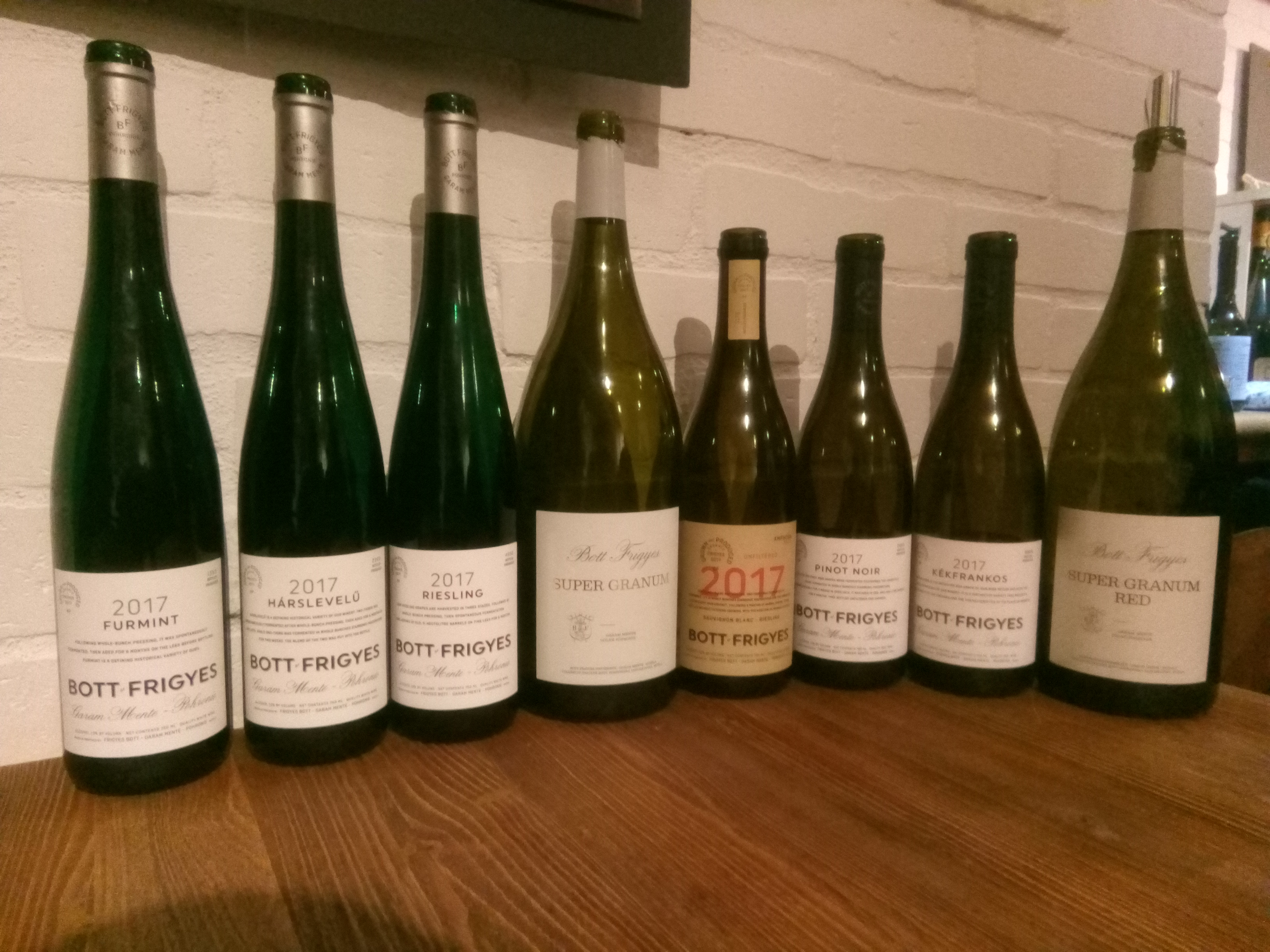 Furmint 2017
Fermented for 10 months(!) in barrel, filtered, minimal sulphur added. The nose is full of rocks and smoke. Sour, slim body, lots of citrus and brutal acidity. Flawless, mineral wine, but at this stage the acidity takes over the palate. Will be nice, but it needs a year's rest. (85/100)
Hárslevelű 2017
40% whole berry fermented, filtered, minimal amount of sulphur added. Light golden color. Smoky, mineral aromas with delightful white flowers mixed in. Lean, stony structure, citrusy aromas with green apple, but the acidity is overwhelming. Very young, let it rest. (85/100)
Riesling 2017
Dried white fruits and a bit of petrol on the nose. After a while the latter clears and is replaced by smoke and minerality. Fresh, youthful in the mouth, lively, complex acidity, despite that, it's pretty easy to drink. I guess it's helped by a few grams of sugar, but it feels surprisingly round. It tastes like lemon and Earl Grey tea, and it feels like your mouth is vibrating - I'm not kidding. I found it a bit comical that the variety infamous of it's acidity is the best fit for consumption at this early age. Lovely! (87/100)
Unfiltered Riesling - Sauvignon Blanc 2017
Member of Frigyes's experimental range, this wine is an unusual combination of varieties, with a slight Riesling dominance. 30% of the must was fermented and aged in an amphora, the rest was whole berry fermented, then aged in oak barrels. Unfiltered, but some sulphur was added for safety. Opalesque, yellow appearance. Surprisingly reserved nose: a bit of smoke, chamomile, fresh sorrel and clove. Medium body with sour, heavy acids, not much but dry tannin. The palate tastes of malt and dried figs, that contradicts the sour taste. Long, tannic finish with a touch of bitterness. Definitely experimental, but I doubt it'd be worth aging. Drink it up, it's about fun, not finesse. (85/100)
Super Granum 2016 Magnum
The winery's white flagship (Granum meaning Hron in latin). 40% Furmint, 40% Hárslevelű, 20% Juhfark. The first one was whole bunch pressed and barrel fermented, the latter two whole berry fermented for 8 days, then pressed and barrel fermented & aged. After a year they were filtered, blended, and bottled in magnums. Light golden color. Clean, citrusy, pleasant nose, with a hint of smoke and basil. The palate is vibrant, mineral, with lots of elegant, lively acidity. Fruity taste, green apple, lemon, apricot. Long, finessed finish. Lively, fruity, mineral, clean, this really is a great wine. (91/100)
Pinot Noir 2017
Whole berry fermented for three weeks, then oak aged. Reserved salty, earthy nose with the scent of roses. Medium body, reserved but young tannin, vibrant acidity. Dead leaves, sour cherry, strawberry, yoghurt. Young, but I do believe time will help it a lot. (86/100)
Blaufränkisch 2017
Deep claret color. Surprisingly aromatic: licorice, cherry, caramel mix in the nose. Tastes like pure cherry juice. Nice, complex structure, but the acid is disturbing, and the tannin needs to get rounder, too. Interesting, and it's every aspect points towards a great wine, but it needs a few years of aging. Patience! (86/100)
Super Granum Red 2016 Magnum
The red flagship. Blaufränkisch, Pinot Noir, Kadarka and a few drops of Pinot Meunier. Earth, blackberry, clean nose. It seems like one year's aging matters a lot. Earthy, cherry taste, accompanied by yoghurt and green herbs. Acidity and tannin are lively yet a lot more humane than in the other reds. Long, earthy finish. Nice red wine, but I'd recommend aging it a bit more. (87/100)
Afterword
The wines were faultless, and did a great job showing off the terroir with their mineral, smoky substance. Most of them were way too young, the acidity was oft overwhelming, but that can be easily dealt with by laying off the bottles for a while. I especially liked the flagship wines being a blend of the best barrels, instead of being a varietal selection. The hype for Frigyes is well deserved, these wines are genuinely good. Finally I'd like to thank him and Wineglass Communication the opportunity. Here's to good wine!