A bejegyzés magyar változatát itt éri el.
Say: my Fellow, what good is languishing among these sad ruins?
For what do you ponder on an era long gone?
Strictly measure the present with a future to be achieved;
Do, create, enrich, and the Homeland will arise!

- Kölcsey Ferenc
We have a saying that goes "Hungarian wine is world-renowned countrywide". That's good news for us, winelovers, because we get a lot better deals than our western counterparts. For people in the wine business, this is bad news. Their expenses compete with the western wineries, while their income lags behind. 
So, what can be done about the situation? First off, enormous money has to be poured into marketing - international marketing, that is. Things in this regard are starting to get on track, some campaigns are taking place spreading the word about great Hungarian wine (though some attention should be paid to the Far East too, current campaigns are concentrating on the US). Secondly, lots of quality wine has to be made. Even though some people are making some nice progress (this blog is supposed to report on that, right?), there's still a lot to do, and few wineries can be said to only produce great wines.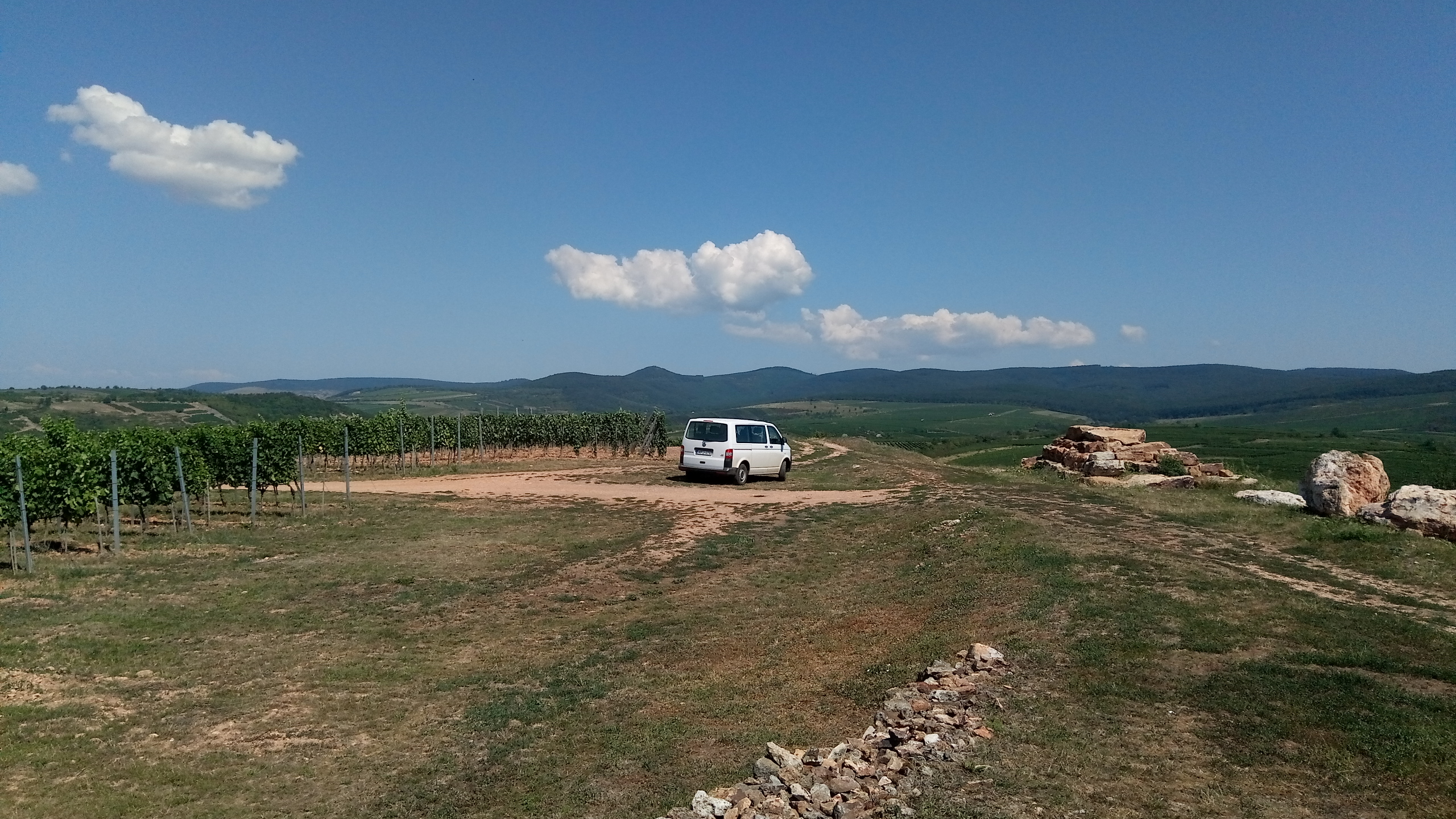 Atop the Szent Tamás vineyard. A place where truly world class wines can be made.
That's where the Szepsy family comes into the picture. Except their wines are not only great, but almost exclusively in Hungary, they consistently make world class wines, without exceptions or waverings. This august I was lucky enough to visit them with my friends. We visited both the Szepsy Pincészet led by Szepsy István, and the Szent Tamás Pincészet led by his son, Szepsy István Jr., with a fabulous lunch break at the Első Mádi Borház (First Winehouse of Mád), also managed by the family.
Our glorious lunch. Mád is the gastronomical center of the Tokaj wine region.
Szent Tamás Szőlőbirtok és Pincészet
Lead by Szepsy István Jr., the winery's goal is to make dry Furmint and Tokaj a global brand. Founded in 2009, they currently harvest on 26 vineyards near Mád. The winery uses state of the art technology, primarily for dry Furmint (as this wine best reflects the unique terroir of  the region), but in outstanding years Szamorodni, or even Aszú is made, too.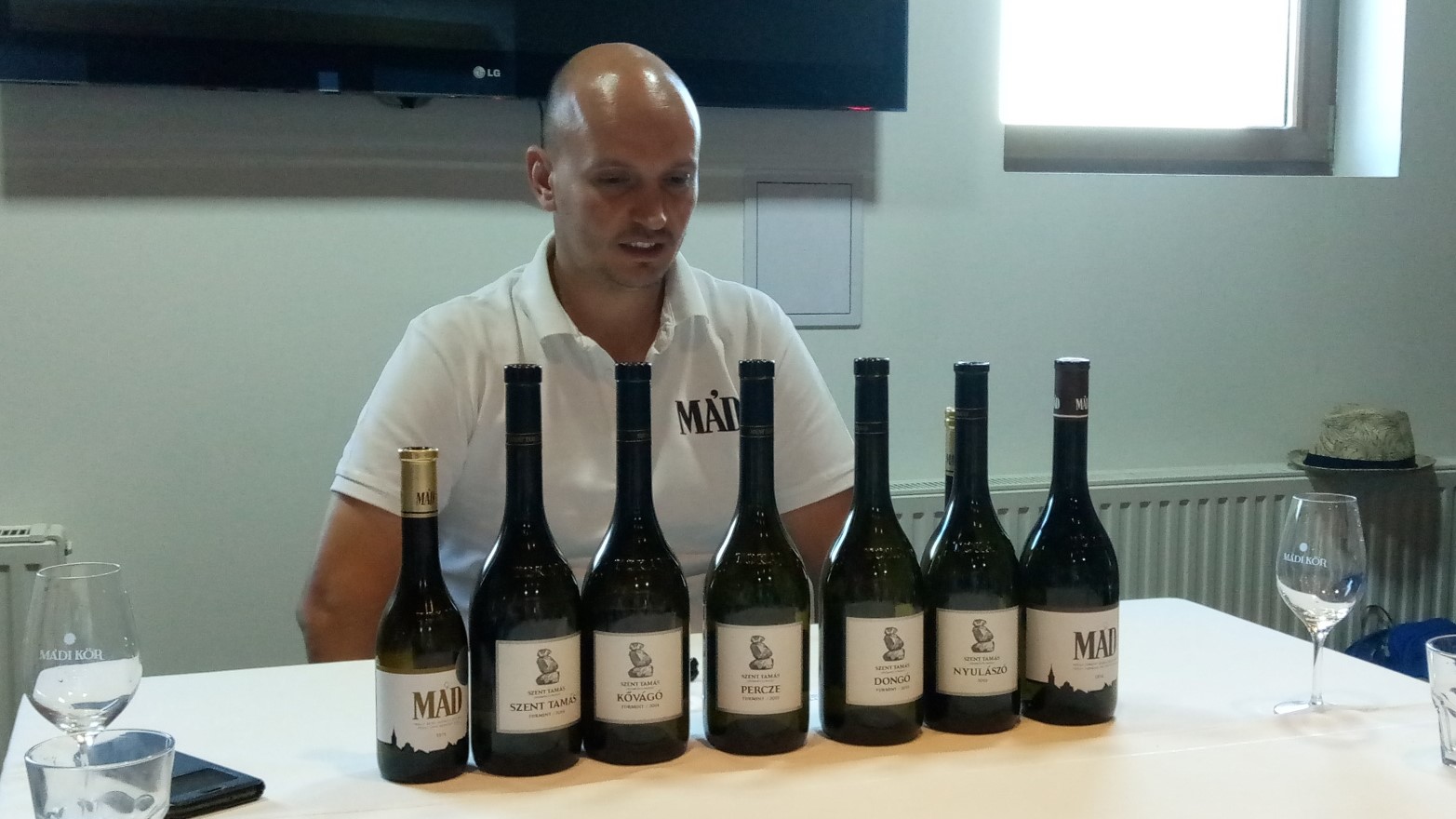 Szepsy István Jr. with the sortiment of Szent Tamás Pincészet. Brilliant dry whites.
Dry by Tokaj 2014
Blend of Furmint, Hárslevelű and Sárgamuskotály. Pale greenish-yellow color. Reserved aromas with minerality and elderflowers. Citrusy, mineral taste. Good, but not very complex acidity. Short, mineral aftertaste. Good work from a difficult vintage. (85/100)
Mád Furmint 2016
Light yellow appearance. Fruity, citrusy aromas with a touch of minerality. Reductive, citrusy taste, nice structure, nicely underlined by the acidity. Moderately long aftertaste with a touch of the terroir. (86/100)
Nyulászó Furmint-Hárslevelű 2015
Straw color. Fresh aromas with a hint of smoke. Light, clean taste with green apples and minerality. Dynamic, light yet structured acidity. Short aftertaste. A dry Tokaji made to be popular. (86/100)
Dongó Furmint 2015
Straw color. Smoky, mineral aromas. Citrusy, chalky, mineral taste. The dynamic, complex acids give the wine a great structure. Long, mineral aftertaste that's surprisingly light. Great wine, wow! (89/100)
Percze Furmint 2015
Straw color. Reserved mineral aromas. Chalky, stony, juicy taste. Lively, but straightforward acidity. Short, mineral aftertaste. Light, but tight Furmint. (87/100)
Kővágó Furmint 2014
Pale straw color. Mineral aromas with a hint of flowers. Tight structure, peach flavor with minerality and a touch of bitterness. (88/100)
Szent Tamás Furmint 2014
Straw color. Clean, mineral, smoky aroma. Clean, crisp palate, peach flavor with wonderful minerality. Beautiful arch, incredible balance, long aftertaste. All this from 2014! The Szent Tamás vineyards has truly exceptional abilities. (91/100)
Mád Késői Szüret 2016
Golden color. Lively aromas with pollen and honey. Juicy palate, boasting with flavors of white fruits and honey. Long, fruity aftertaste with a touch of minerality. Structured yet reserved acidity. Beautiful structure. A golden standard for late harvests. (92/100)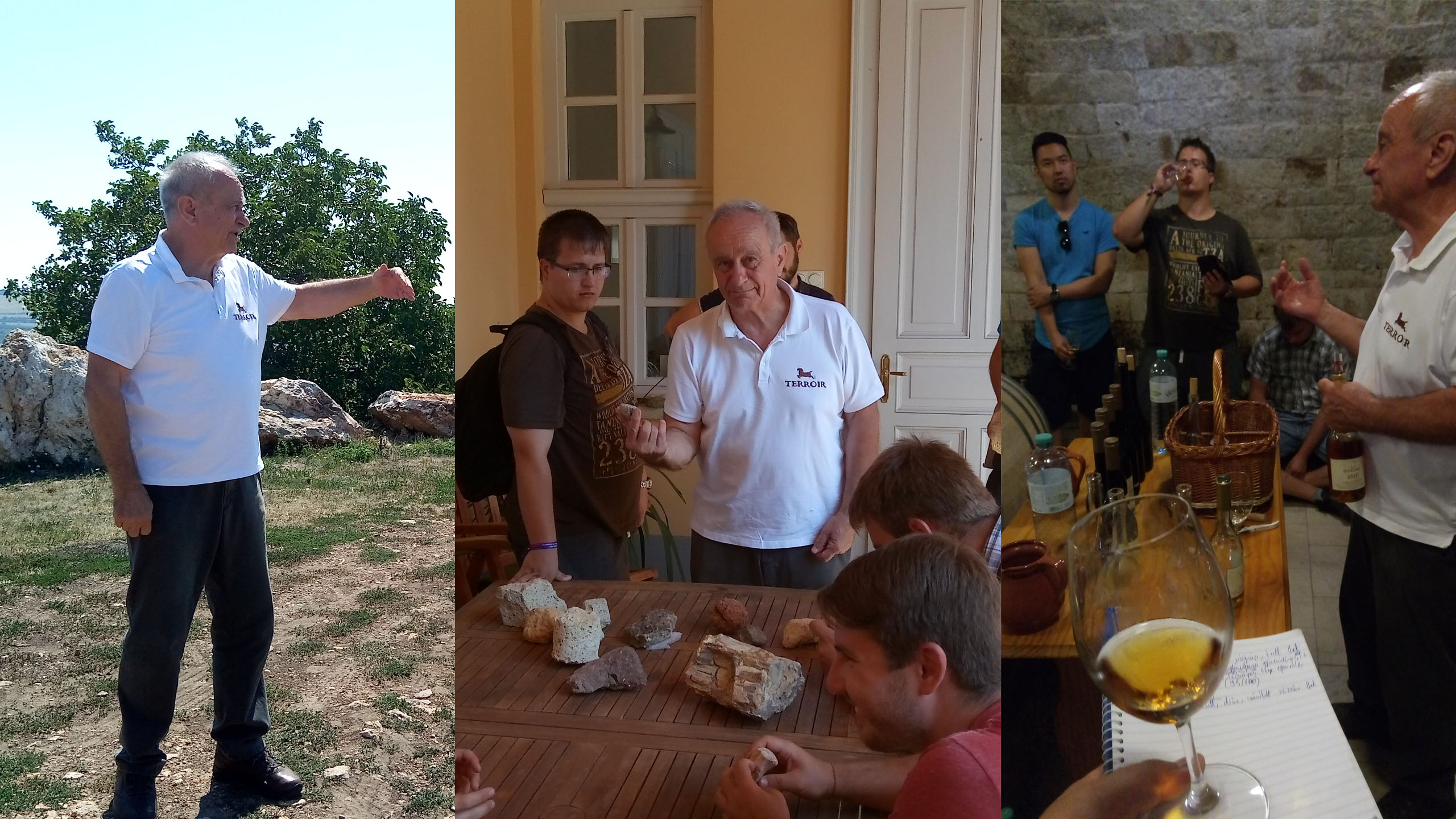 Szepsy István, showing off his vineyards, his terroir, and finally, his unbelievable wines.
Szepsy Pincészet
Szepsy István's family has been making wine in Tokaj since the 1500's. He worked as head viticulturist in the village of Mád, and in 1987, he started his own family winery. As of now, he has vines in 22 vineyards in 6 villages, while the winery and the most potent vineyards are located in Mád. He mostly works with Furmint, the Hárslevelű and Sárgamuskotály that he has left are currently getting Furmint stalks grafted onto them. The ones he still has are used for his Szamorodni sweet wine. He uses minimal vine load, manual winemaking process, the wines ferment and mature in Hungarian oak. The wines have outstanding minerality and flawless balance. István tries to express the unparalleled volcanic character of Tokaj in his wines, and the special terroir of his most outstanding vineyards in his single vineyard bottles.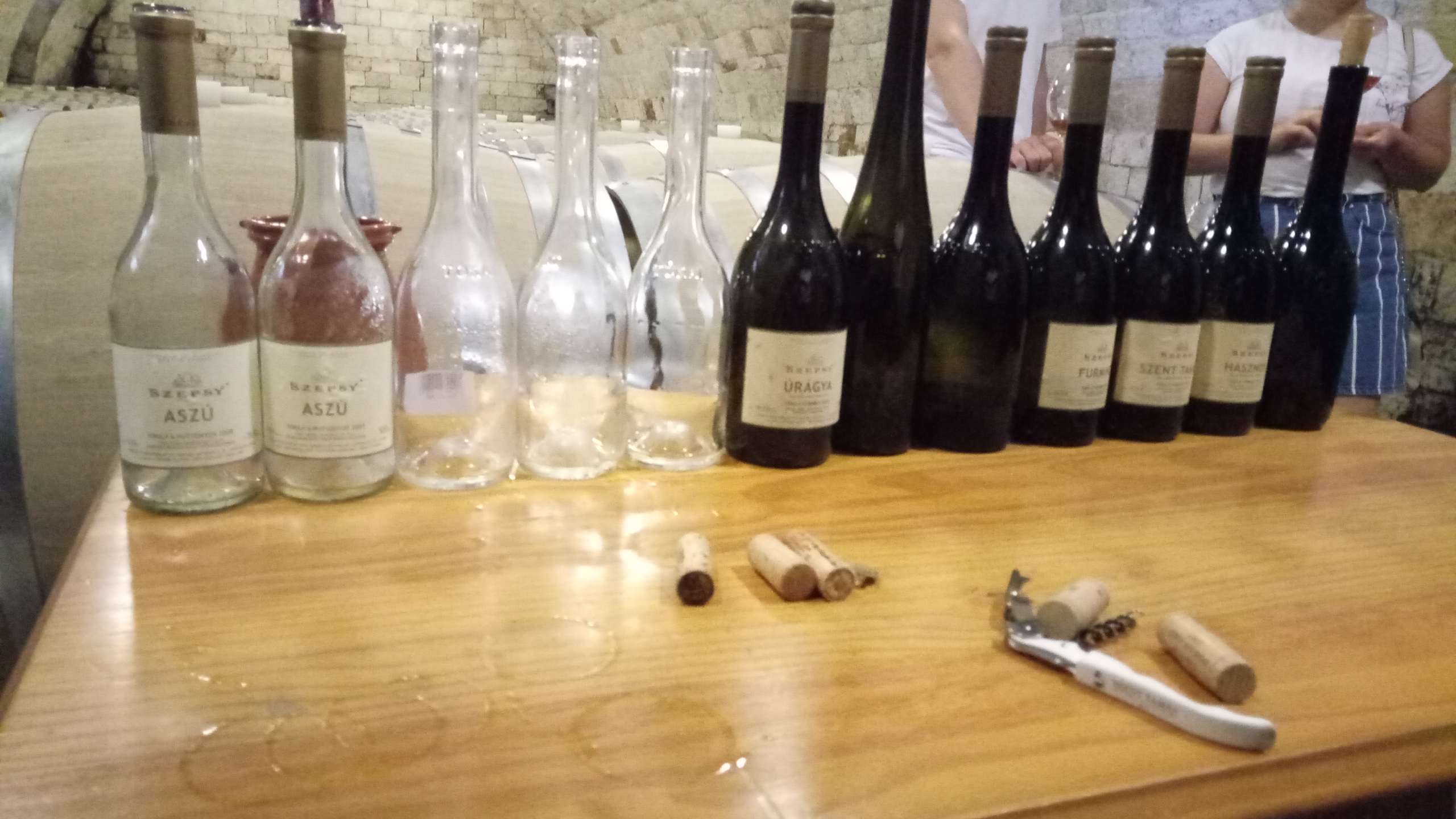 Szepsy bottles. Many without a label, but beauty's in the wine of the beholder.
Percze Furmint 2017
Light yellow color. Honey aroma with a nice smokiness. Tight, grapefruity, chalky, mineral taste. Round palate. Young, but not [harsány] acidity. It needs a few years' rest, but it'll be worth it. (87/100)
Furmint 2016
Pale yellow color. Smoky, mineral aromas with green spices. Apples, chalky, mineral taste. Nice arch, medium long mineral aftertaste, with a touch of tannins. Great structure. (88/100)
Hasznos Furmint 2016
Lighter, but still smoky, mineral aroma. Peach flavor with mineral tones. Crisp, complex, nice acidity. A bit heavy on the alcohol, no wonder, it's at 14%. Still very enjoyable. (87/100)
Szent Tamás Furmint 2016
Intensive, outbursting, smoky, mineral aroma, with a bit of barrel spices. Grapefruit, chalky, mineral taste, splendid arch, beautiful, complex, long, round acidity. Long, mineral, brilliant aftertaste. Wonderful! This is truly world class.(93/100)
Úrágya Furmint 2015
Straw color. Mineral aromas that started showing a bit of maturity. [szikár], well structured, light structure, complex, round acidity. Peach flavor with a lot of minerality. Long, light, mineral aftertaste. Nice wine. (91/100)
Szent Tamás Furmint 2011
Mature, golden color. Bouquet of secondary notes, after aerating it turns into a mature, mineral aroma. Beautiful, round acidity, mature, honey flavor with minerality. Long, mature aftertaste.  (90/100)
Úrágya Furmint 2003
Golden color. Unbelievable, fruity, mineral aromas. One would think some muscat slipped into the must, but it's 100% Furmint, and it's age is even harder to guess from the nose. As the time passes more mature notes appear on the nose. It's not that lively in the mouth, apple, mineral flavors dominate the palate. The acidity's not as complex as it used to be, but it's still round and lively. Some oxidated notes appear beside the minerality in the aftertaste. This really is a special wine. (89/100)
Szamorodni 2013
Szamorodni means that the partially botrytised bunches are crushed together, soak for a few hours, and then the must is extracted & fermented. This is an easy & cheaper way to get the concentrated sugar content and aromas of the botrytised grapes. Copper yellow color. Dried rose petals greet us on the nose, later accompanied by cantaloupe and minerality. Fruity, juicy, honey flavor with lots of stones. Nice, characteristic acidity, medium long, fruity, mineral aftertaste. Great structure. (92/100)
6 Puttonyos Aszú 2013
Aszú technology is more complex: the botrytised grapes are picked individually, then soaked in a base wine. The wine later has to be matured at least three years in barrels, and there's a strict quality control in place. Deep copper yellow color. Dried apricot and pineapple aromas accompanied by dried rose petals. Apricot jam, honey and lots of minerals caress our tastebuds. Smooth, round palate, clean, oily structure, beautiful, complex acidity. Medium long aftertaste with dried fruits and minerals. Very young for an Aszú, but it's already a glamorous wine.(93/100)
6 Puttonyos Aszú 2009
At this point I've gotten a bit emotional. No Szepsy wine is mediocre, but these are really the top of the tops. Despite my sentimental state, I tried to record my experience the best I could. About the wine: mature, copper red color. Dried rose petals on the nose. Overripe white fruits, honey, minerals on the palate, with something unlike anything you could ever taste. Wonderful balance, medium body, long aftertaste. A really glamorous wine. (95/100)
6 Puttonyos Aszú 2008
Copper red color. Mature aromas with walnut and dried rose petals. Juicy palate with walnuts, honey, and a quarry's worth of minerals. Medium body, extremely long aftertaste. Majestic. (96/100)
6 Puttonyos Aszú 2007
Dark copper red color. Walnut, honey and minerals on the nose with beautiful bouquet. Mature palate with dried white fruits, pear, almond, oh, even dried sour cherries and cranberries. Oily, heavy palate, yet wonderfully crafted with unbelieveable balance and arch. Glorious, complex acidity, infinite aftertaste with honey and propolis. I'm out of words. (98/100)
Betsek 6 Puttonyos Aszú 2007
Single vineyard Aszú. From Szepsy. A special bottle for sure. Reserved aromas of raisins and honey. Mineral, flavorful, dried fruity palate. Beautiful acidity, long arch, thinner than medium body. Long aftertaste with honey and walnuts. (95/100)
Szepsy. Köszönöm.