A bejegyzés magyar változatát itt éri el.
"Let the wines of the Franks be adored by the rest,
let them praise Spanish or Italian wines,
or bless the ones blazing with the flames of Shiraz:
only for the sap of Hungarian vines I wrest.
Wine that makes it's modest drinker blest
not even gods drink a nectar so fine,"

- Gottfried Benjamin Hancke
Acid! Rocks! Smoke! No, this is not the deepest pit of hell, on the contrary - this is Somlói Juhfark, a unique wine, that is the symbol of Hungary's smallest wine region, Nagy-Somló. In honor of the wine - and for the marketing of the region - the annual Somlói Juhfark Ünnep (Somlói Juhfark Holiday) was held this year for the third time at the Tornay Winery at the foot of the Somló Hill. The feast is a wine tasting of the Somlói Juhfark, where the hill's every significant producer shows off their wine, with additional vineyard and cellar tours and workshops. But before going any further, some introduction to the Somló is needed.
The wine region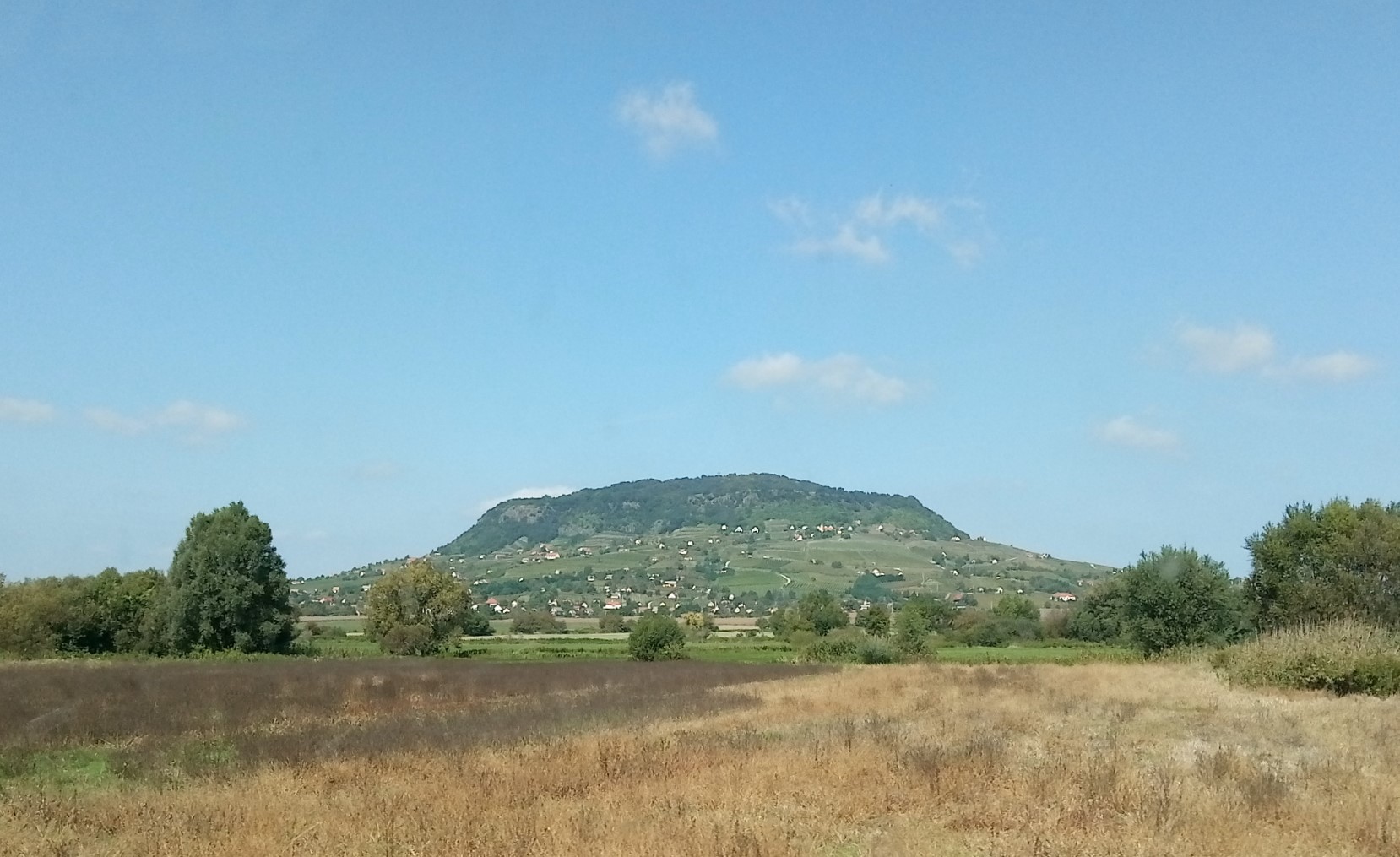 The Somló Hill, with a fort atop, and countless cellars on the slopes
Nagy-Somló is Hungary's smallest wine region with only 690 ha of vineyards, it's located north of Lake Balaton on the slopes of the Somló Hill. The conical hill  is a volcanic butte, that originates from volcanic activity underneath the Pannonian Sea, and the later erosion of it's surroundings. Thanks to these processes, the hill sports a unique, complex volcanic soil structure, that provides the local wines with an unmistakable, mineral, smoky aroma. This peculiar character made the wines of Somló famous. For a long time, in wealthy Hungarian families the bride had to drink Somló wine on her wedding night, because it was believed to help her beget a son because of the wine's strong, "masculine" character. Wineries grow white grapes on the hill almost exclusively, with the most important varieties being Olaszrizling (aka. Graševina, Welschriesling) (~160 ha), Juhfark (~95 ha), Furmint (~70 ha), Hárslevelű (~30 ha) and Traminer (~15 ha). Most of the grapes are made into varietal wines, the most famous being Somlói Juhfark.
The variety
The variety got it's name (Juhfark translates to Sheep's Tail) from the cluster's cylindrical shape resembling a sheep's tail. The variety is believed to be native to the Carpathian Basin, and it was widely grown all across the country, but as time passed it was gradually replaced by easier to grow varieties, and nowadays it's virtually extinct outside of Nagy-Somló. The variety is sensitive, hard to grow. The last hard vintage was in 2016, when the region was hit by a hail, and the shock presented itself in an unpleasant, bitter character in the wines. Juhfark wines  are reserved on the nose and palate, with aromas of grapes, peach and nuts, and robust, grandiose acidity. Because of this, these wines are perfect for presenting their vineyards' terroir, and in this specific case, the unique, extremely mineral Nagy-Somló terroir. 
The event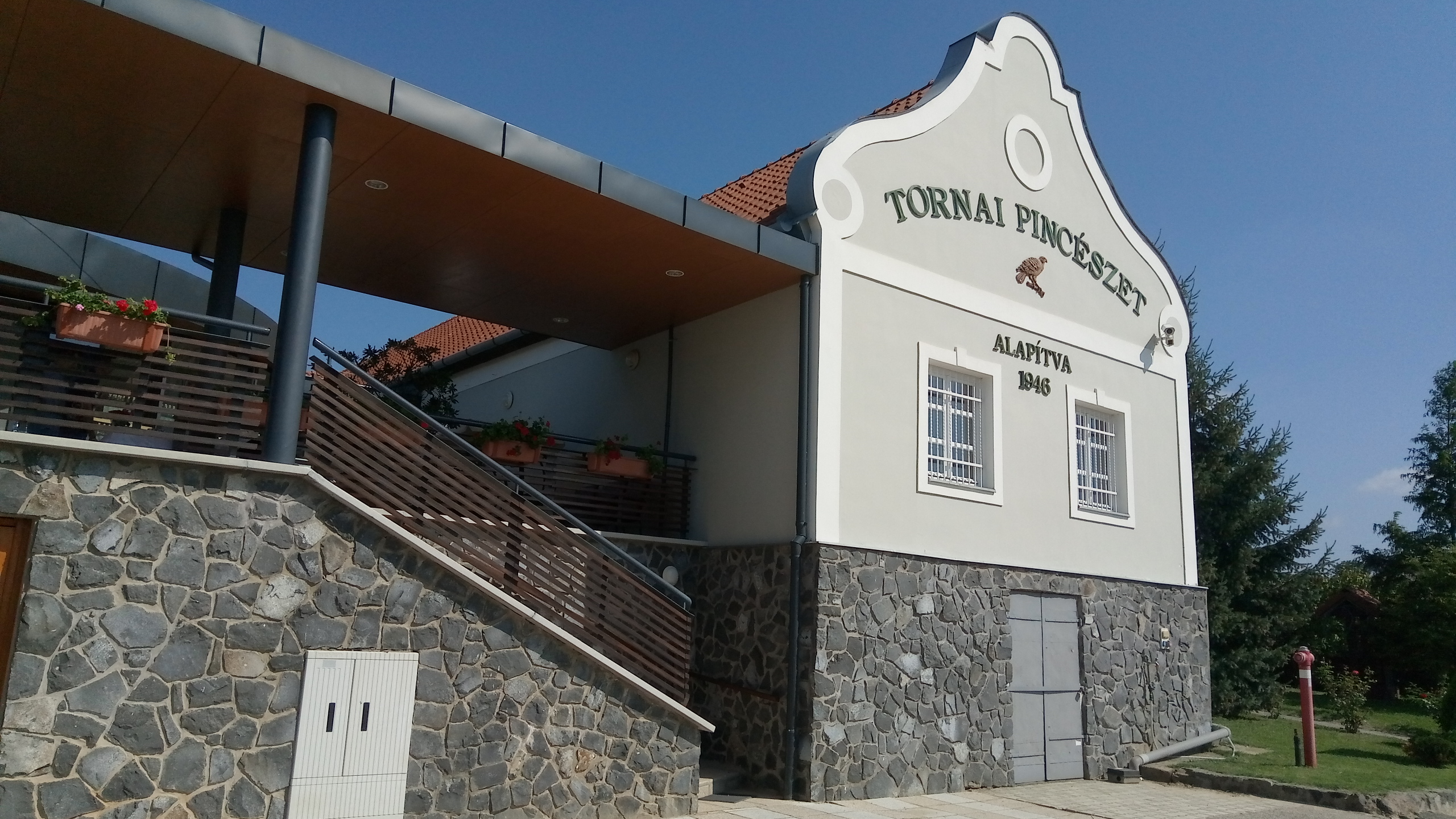 The elegant, modern building of the Tornai Winery
The Somlói Juhfark Ünnep is first and foremost a wine tasting. One can taste Juhfarks for hours in the tasting room of Tornai Winery, the host of the event. But it's also much more: masterclasses, free vineyard and cellar tours, and on the terrace, a buffet and DJ awaits the guests. I must mention the lunch, because it was tasty and affordable, and the chef even managed to smuggle some Juhfark into the dishes, as it seemed fit for the event.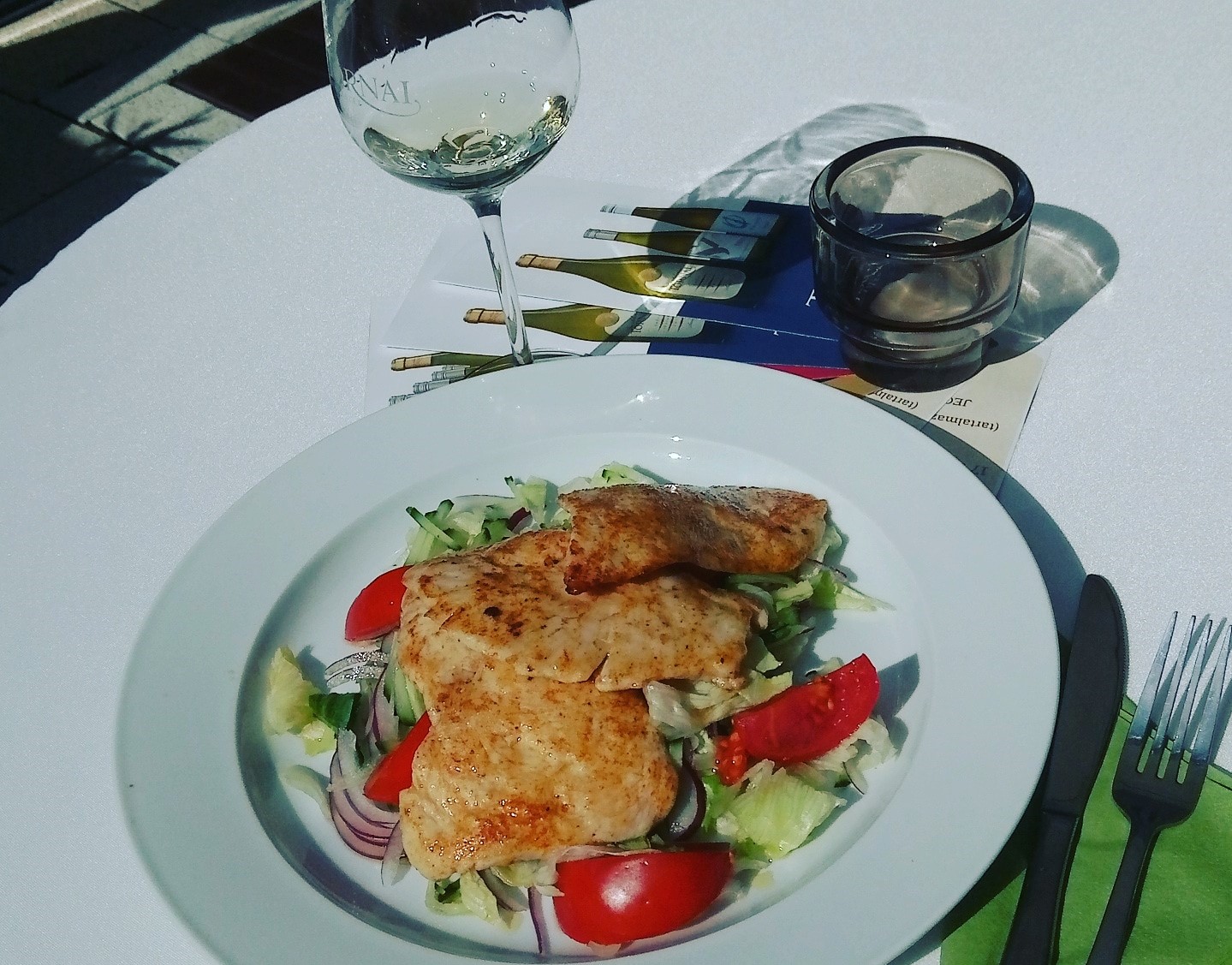 The luncheon: grilled pullet breast, salad and Juhfark vinegar
Everyone gets what they're wishing for, whether that be serious professional inquiry into the world of Juhfark, or a  chill weekend program for those who wish to relax in a picturesque setting, with a few glasses of good wine. I almost forgot, the event features something that's more and more rare among wine events, even in Hungary: it's not overcrowded. This was the first really homely tasting I've been to in years.
The wines
Here come the wines. This time, a lot of them. 28, to be more specific.
Barcza Juhfark 2017 (barrel sample)
Reserved aromas, some of the terroir is showing. Big, oily body, young acidity, flavours are shut-in. At this stage, this wine's an (81/100)
Barcza Juhfark Hordóválogatás 2017 (barrel sample)
The mineral character is more prevalent on the nose, with a hint of honey. Wild acids. The palate is semi-dry and full of rocks. Needs to rest a few years, but it's got potential. (82/100)
Barcza Juhfark 2016
Aromas of walnuts, honey, and the alcohol appears on the nose, too. Stony taste. Rough acidity, the finish bites, and it's bitter. The vintage did this one in. (T/100)
Barcza Juhfark 2015
Clean, mineral nose. Round palate with nice acidity, taste of peach and stones, and a long, mineral finish, with a bittersweet touch. Oh well, at 14% we shouldn't be surprised. (84/100)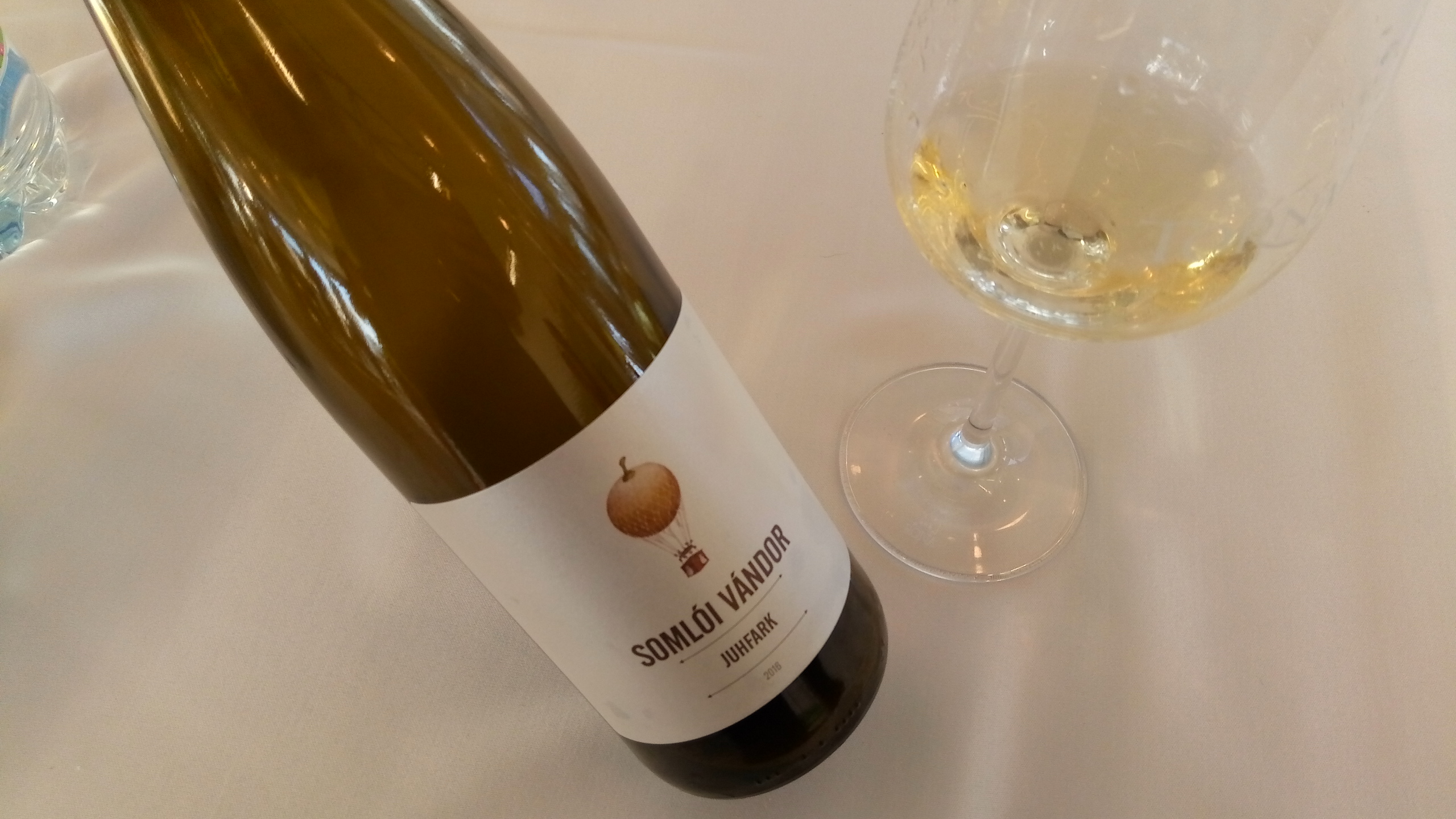 Somlói Vándor Juhfark 2016
Tomi Kiss is one of the few talented vintners who managed to overcome the 2016 vintage. Aromas of hops, green herbs, bananas and smoke, like a good glass of hop lager. The palate's full of stones, the acid is lively, the finish is long, mineral and tart. Easy to drink, enjoyable, peculiar. (88/100)
Somlói Vándor Borszörcsök-Somlószőlős Juhfark 2017
The winery's first vineyard selection Juhfark (actually a barrel selection, but each vineyard's harvest was in a different barrel, so no cheating here). Clean, mineral nose. Oily structure, fresh, explosive acidity, clean but reserved palate, long finish. It's very young now, but once it's released, it won't stay on the shelves for long. (84/100)
Fekete Juhfark 2016 (barrel sample)
Fragrant, with a hint of terroir, and some alcohol is showing, too. Massive, rough acidity, hiding behind that are some citrusy flavours, supported by a medium body. Still very young, hard to tell how it'll develop. (80/100)
Fekete Aranyhegy-dűlő Juhfark 2015
Single vineyard Juhfark from the harvest of Aranyhegy-dűlő. Typical Somló aromas, mature nose with hints of vanilla, wild flowers and apple peel. Drastic acidity, obviously made for ageing. Otherwise the wine is ready, the palate is round, full of mineral flavours, that last well into the finish. This wine would be swell right now, if it wasn't for the acid. I wonder if the other components will hold up till the acidity calms down. (83/100)
Fekete Aranyhegy-dűlő Juhfark 2011
Exceptional vintage, exceptional vintner, no picking at these things at Béla Fekete in 2011. The nose is pleasant, mature, with notes of honey and some elegant smoke. And it seems, after seven years, the acidity is finally at bay. The palate, however, is heavily oxidised, the only remaining taste is that of the stones, that prevails until the end of the finish. If you still have a bottle, uncork it, now! (83/100)
Bogdán Juhfark 2016
Weirdly this is the first time I taste Bogdán wines, while they're (if I recall it correctly) the third largest winery in Somló. This wine was also hit hard by the vintage of '16. Smoky, stony aromas with flowery notes. Lively acidity that tingles your mouth, heavy, oily body, the finish, however, is tannic and bitter. (79/100)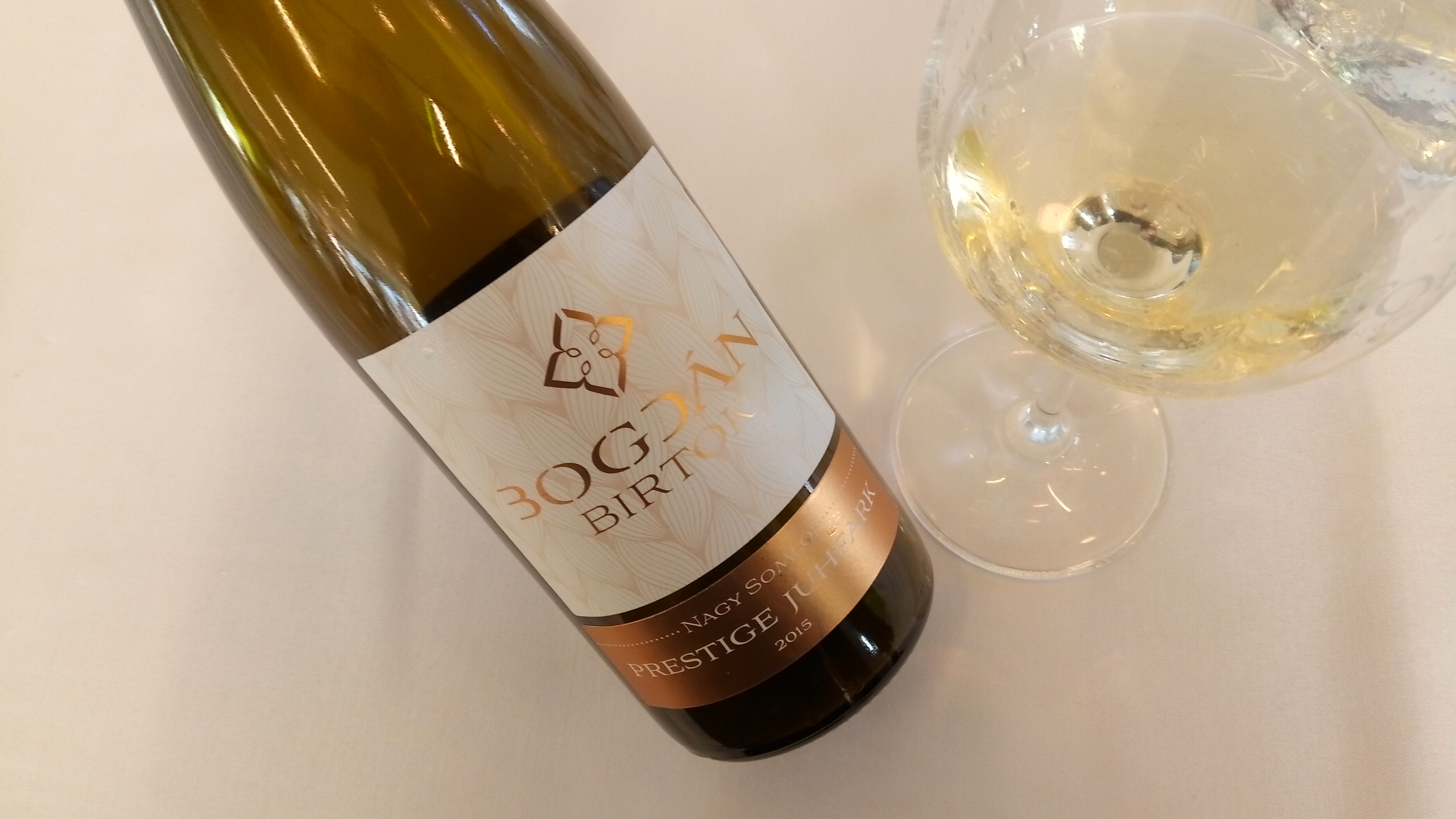 Bogdán Prestige Juhfark 2015
Juhfark selection from barrique barrels. This wine strengthened my belief that Juhfark needs barrique - oaked (but not overoaked!) Juhfarks are more elegant, finessed and clean. The nose is stylish, citrusy with barrel spices and smoke. Salty, citrusy taste, lively, fresh, but not in your face acidity. Round, finessed palate, with a long finish of mineral aromas. A really nice wine. (88/100)
Bogdán Juhfark Elixir Late Harvest 2015
The only sweet wine of the event. Golden color. Mature nose, aromas of honey and the typical minerality of Somló. Semi-sweet taste due to the fresh acidity, aromas of stewed pear, stones and hops. The palate is heavy, the wine's got a huge, oily body, and even though the acid is lively, neither that nor the sugar can keep up with the sheer volume of the wine. Medium finish with pear and minerality. Interesting, I've never met a sweet wine like this before. (84/100)
Csordás-Fodor Juhfark Selection 2015
Aromas of stones and orange peel. Sour start, mineral, citrusy taste, oily body, medium, tart finish. The wine, however, is all out of balance. It starts of with a high dose of acidity, and nothing else. Then mid-palate comes the heavy, oily body, and then the thin, yet very sour finish. Swinging back and forth between the extremes is not the most pleasant experience. Wonder what might have caused this, maybe it's over the top already. (81/100)
Csordás-Fodor Juhfark Selection 2016
Smoky, chalky aromas. Balanced, oily, medium body. Mineral taste. Bitter, tart finish. Not bad, but it can't deny the difficulties of the vintage. (84/100) 
Szalai Pince Juhfark 2017
Fragrant, with a touch of smoke. Salty, fruity taste, lively, but not very complex acidity, dainty, medium body. The finish is made even more popular with a few grams of residual sugar. Pop-Juhfark, in the best possible sense. Plain, enjoyable, but never pretends to be something it isn't. (85/100)
Kreinbacher Juhfark 2016
Clean, fruity aromas with a touch of minerality. Round, a tad bit oily palate, salty, mineral taste, easy to drink, but the finish is bitter. Seems even Kreinbacher couldn't overcome the woes of the '16 vintage. (82/100)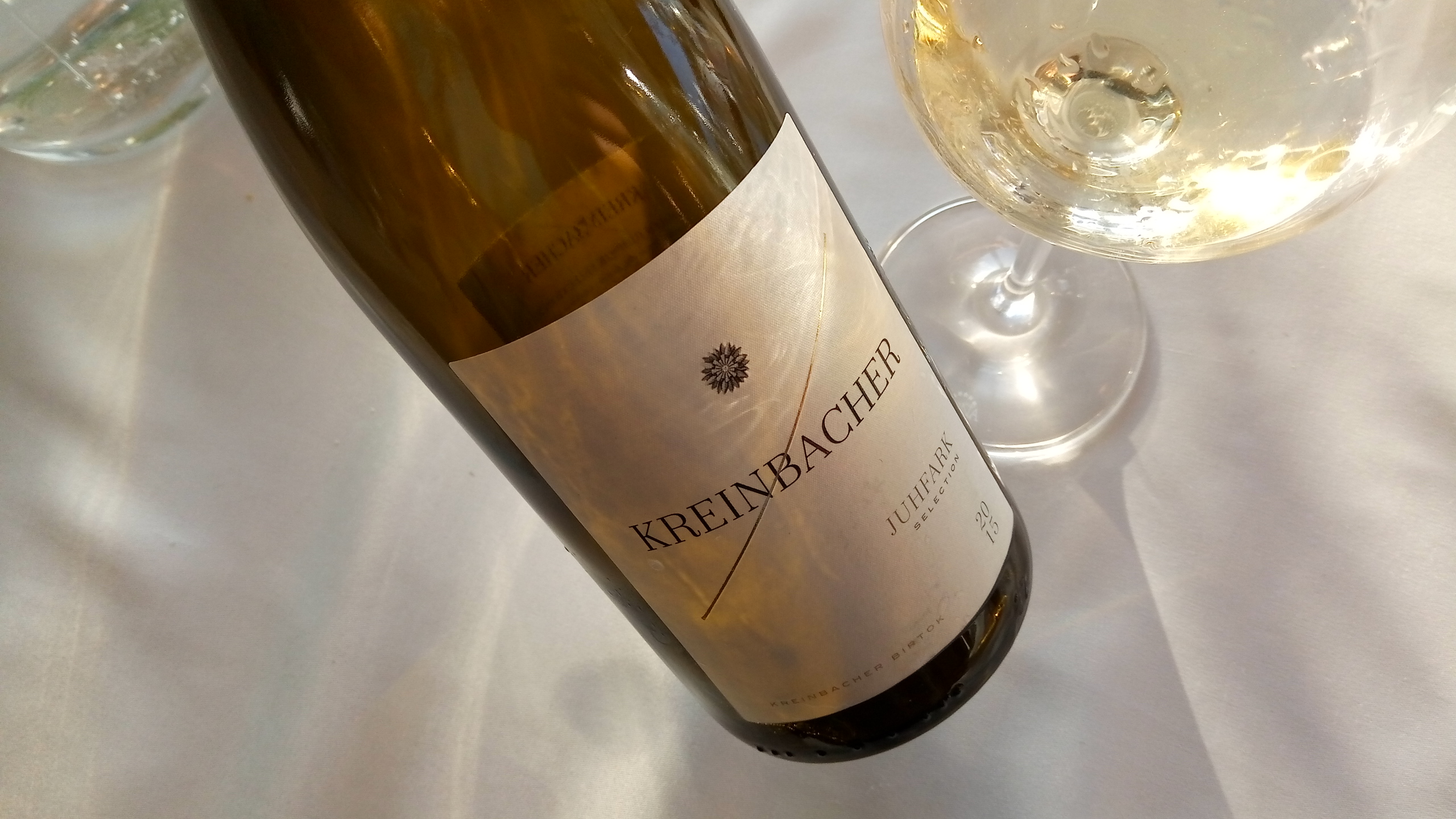 Kreinbacher Juhfark Selection 2015
Mature nose, grapes, vanilla and the Somló terroir appear amongst the elegant aromas. Juicy acidity, fruity (pear, apricot) taste, graceful, elegant structure. Long, mineral finish. A special experience. (91/100)
Kreinbacher Juhfark 2008
10 years' a long time, especially Juhfark-wise. Will it hold up? Aromas are dominated by notes of brittle. Round, a bit oily body. The acidity is still fresh. Taste of walnuts, vanilla and stones dominate the palate. There's a hint of oxidation, but it's almost unnoticeable. Long, mineral finish. Wow, I definitely didn't expect this. (88/100)
Kolonics "Mátyás" Juhfark 2017
Juhfark from the barrel names "Mátyás" of the Kolonics winery. Fragrant yet simple nose. Sweetish, a bit oxidized palate. Reserved acidity. Medium long, stony finish. (81/100)
Somlói Apátsági Pince Juhfark 2016
Sweet nose with notes of banana, vanilla and smoke. Citrusy, chalky taste, sour acidity, medium body, the finish is bitter and long. (81/100)
Hegedűs-Szabó Juhfark 2017
Reserved, peachy aromas. Articulate acidity, flavours of minerals and peach. Easy to drink, tart, stony finish. Still a bit young. (84/100)
Kőfejtő Juhfark 2017
Clean nose with stones and almonds. Juicy, clean, mineral palate, medium body, chalky finish. Still very young yet. (83/100)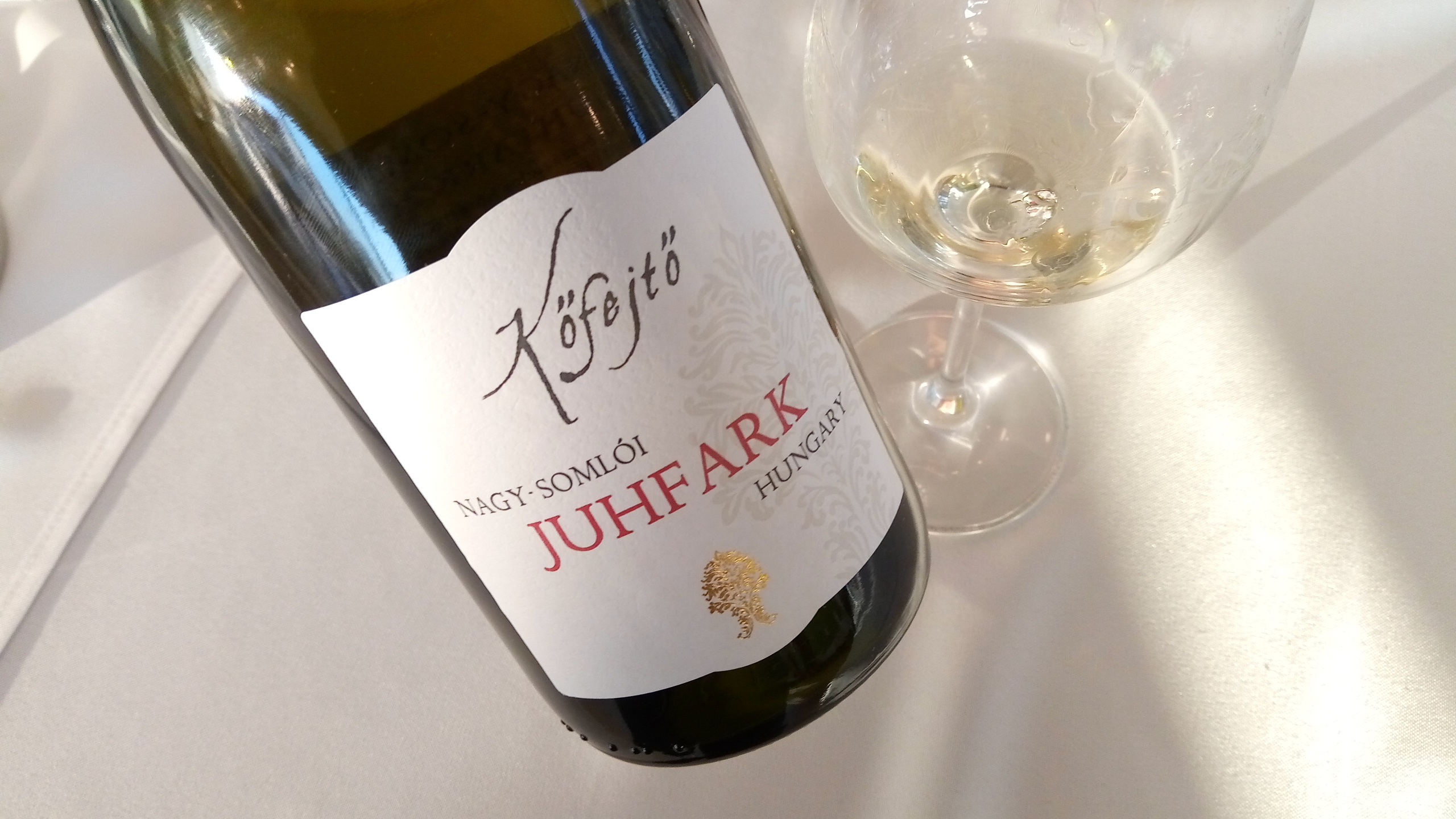 Kőfejtő Juhfark 2016
Aromas of hops and green herbs on the nose. Nice acidity, tastes of honey and it's got a nice minerality to it. The finish is bitter. The finish tastes of honey and stones, it's got a nice tartness to it. (85/100)
Tornai Friss Juhfark 2016
Reserved, chalky aromas. Sour acids, citrusy, chalky taste, thin palate, tart finish. Despite this, it's easy to drink. Probably past it's peak. (80/100)
Tornai Friss Juhfark 2017
Reductive, fruity aromas with a hint of marjoram. Citrusy, chalky palate, clean structure, lively, fresh acidity, and a thin layer of smokey flavors. Tart, fruity finish. One could hardly make a Juhfark any fresher than this. Good. (86/100)
Tornai Premium Juhfark 2016
Aromas of white grapes, lemon peel, and the typical Somló character on the nose. Fruity, citrus taste, juicy, lively acids. Polished, round palate, yet it's not a tad bit heavy. Long finish with citrus and minerals. Also, no matter how hard I tried, I couldn't discover a hint of the bitter taste that overshadows most of the 2016 vintage. Enjoyable, comprehensible, but definitely not ordinary. Best Buy. (88/100)
Tornai Top Selection Aranyhegy Juhfark 2015
Mature  aromas with vanilla, smoke, spice and some minerality. Great body, lively, sour acidity, bright palate with vanilla, citrus, honey and minerals. Medium finish with an emphasis on minerals. Mature, big Juhfark. (87/100)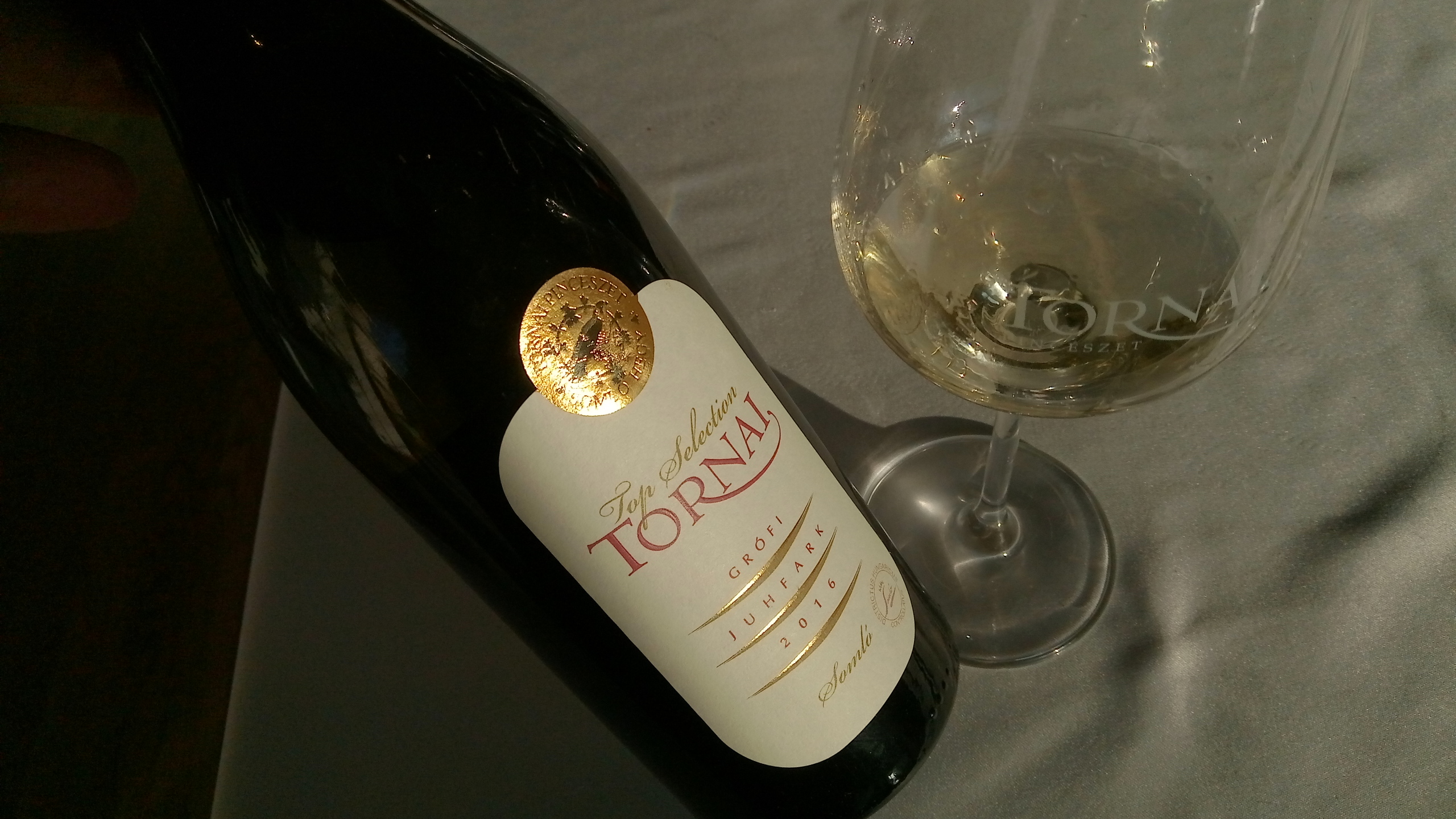 Tornai Top Selection Grófi Juhfark 2016
Mature nose, with aromas of raisins, dried white fruits, and a touch of smokiness. Lively, complex acidity, exemplary balance, bright palate with flavors of cantaloupe, citrus, hints of stones. Long finish with lots of elegant minerality. The '16 beats the '15 Tornai top Juhfark? Well, this is unexpected. (91/100)
Final thoughts
The Somlói Juhfark Ünnep is a great event: it's well organized, the wines are special, the food is tasty and affordable, the cellar and vineyard tours and workshops are interesting. The event itself is small and homely, something that's less and less common nowadays. Besides, the tasting takes place in a wonderful setting, the modern, elegant Tornai Winery building and the scenic Somló hill make the visit worth it by themselves.
And the wines? The epitome of the tasting was the Tornai Top Selection Grófi Juhfark 2016 and the Kreinbacher Juhfark Selection 2015 respectively. I couldn't decide between them, even after retasting, both are exceptional, special wines. For Juhfark-newbies I'd recommend the Tornai Friss Juhfark 2017 and the Szalai Pince Juhfark 2017 wines. The Best Buy of the tasting was definitely the Tornai Prémium Juhfark 2016, an enjoyable and typical Somlói Juhfark for ~2000 Huf (~€6). The honorable mentions are Somlói Vándor Juhfark 2016 (special, beerlike wine), Bogdán Prestige Juhfark 2015 (clean, elegant Juhfark) and the Kreinbacher Juhfark 2008 (mature, layered wine).
What to do now? Talk is cheap, and it's especially easy to be smart from behind my keyboard, far from the cold cellars and sunny vineyards. But after all, let me give my two pennies worth. I think the future of Somló lies in cuvées. In the smallest wine region of the country (where one cannot produce in volume for simple geographical reasons) almost everybody focuses on varietal wine. Why? If something, then the Somló wines are characteristic enough to be recognizable even in blends. Not to mention that Juhfark is especially hard to grow, and only makes good wines in exceptional vintages. Many of the above Juhfarks could use the help of some Hárslevelű or Olaszrizling. So if we want Somló wine to be of better, steadier quality, we have to blend them. With high quality, Juhfark based cuvées and premium vintage Juhfarks, Somló would be unstoppable.
I'd like to thank the Tornai Winery for the invitation.